Are you thinking about switching to hardwood flooring for your home? Switching to hardwood floors can completely transform your living space, and we're here to explain why. Just imagine walking into your home and being greeted by the cozy and inviting atmosphere of beautiful hardwood floors. Not only do they add a touch of class, but they also have many health benefits. Hardwood flooring is known for being hypoallergenic, which means it's a great choice for people with allergies or respiratory issues.
But wait, there's more! Hardwood floors have the power to completely change the way your home looks and feels. Whether you like the cozy and rustic style of a farmhouse or the sleek and modern design, there's a type of hardwood flooring that will perfectly match your personal taste. So, if you're ready to make your home look even more beautiful and create a healthier living space, let's explore the signs that indicate it's time to switch to stunning hardwood floors!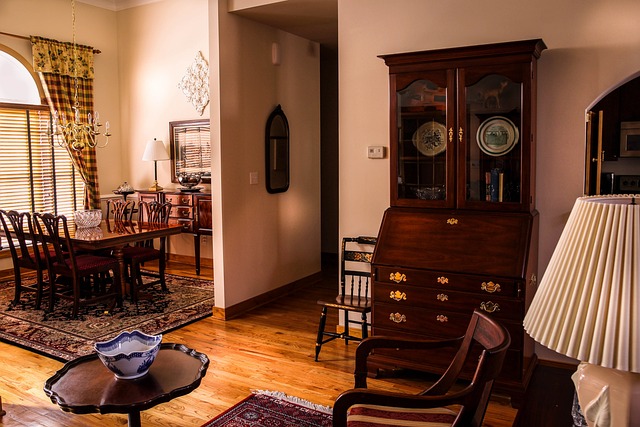 5 Signs It's Time To Switch To Hardwood Flooring For Your Home
1. Look For Noticeable Indicators Of Wear And Tear On Your Present Flooring.
If you see that your current flooring is starting to look worn out, it might be a sign that it's time to switch to hardwood floors. Carpets can get ripped, stained, or worn out over time, which can make them look old and outdated. Hardwood floors are a strong and durable option that can last a long time.
2. Carpeted Flooring Causes Recurrent Allergies Or Respiratory Problems.
If your home has carpets, it can collect dust mites, pet dander, and other allergens that may cause allergies or breathing problems. If you often sneeze or feel uncomfortable at home, switching to hardwood floors might help. Hardwood floors are easier to clean and don't trap allergens like carpets do.
3. Recognize That Your Present Flooring Does Not Suit Your Changing Lifestyle.
If you think that your current flooring doesn't match your changing style or the overall look of your home, it might be a good idea to consider switching to hardwood floors. Hardwood floors can add a timeless and versatile touch to any interior design scheme.
4. Since You Last Installed Your Present Flooring, A Lot Has Changed.
If it's been a while since you last got new flooring, it's likely that there have been big improvements in hardwood options since then. Upgrading to newer hardwood materials can make your floors stronger, give them better finishes, and offer more styles to choose from.
5. The Age Of Your Present Flooring Is Becoming An Issue.
Just like everything else in your home, floors also have an expiration date. If you're not sure how old your current flooring is but think it might be too old (usually carpets last for about 10-15 years), it's a good idea to think about getting hardwood floors. Hardwood floors can last for many years if you take care of them and refinish them when needed. This makes them a smart investment for your home.
Signs Of Worn Out Or Damaged Flooring
If you're thinking of installing hardwood flooring in your house, there are numerous indicators that it's time to make the transition. Here are some tell-tale signs that your present flooring is old or damaged:
Cracks, Chips, and Deep Scratches: If you take a good look at your current floor, you might see some cracks, chips, or deep scratches. These marks show that your floor has been used a lot and might be getting worn out. Not only do these imperfections make your floors look bad, but they can also cause more damage If you don't do something about them.
Loose Boards or Tiles: Safety should always be a top concern in your home. If you happen to come across loose boards or tiles on your floor, it can be a potential danger for anyone walking on it. Loose flooring can lead to trips and falls, especially in areas where there is a lot of foot traffic. This is an important indication that it's time to switch to hardwood flooring.
Unevenness or Sagging: If you notice any parts of your floor that feel bumpy or look like they're sinking, it might mean there's damage underneath. This kind of problem needs to be fixed right away because it can get worse and make your whole floor unstable.
If your floors are showing signs of wear and tear, it may be time to consider switching to hardwood flooring. Discoloration, stubborn stains that won't go away even with cleaning, patterns of wear from pets or heavy furniture, and frequent tearing in multiple areas are all indicators that your current flooring is worn out or damaged.
By recognizing these signs early on and taking action, you can keep your home's flooring in good shape and ensure its longevity and safety. Hardwood flooring offers durability and a pleasing appearance that will not only enhance the value of your home but also make it more comfortable to live in.
The Importance of Aesthetics in Your Home Flooring
Switching to hardwood flooring can completely change the way a room looks and feels. It instantly makes the room more beautiful and can match any style of interior design. There are many different types of wood and finishes to choose from, so you can find the perfect one for your home.
The aesthetic benefits of hardwood flooring extend beyond its look. Consider the following crucial points:
Complementing Interior Design Styles: Hardwood floors can go well with different styles of interior design. They can make your home feel warm and cozy. The natural beauty of wood can add a nice touch to the overall atmosphere of your house.
Versatility in Colors: Hardwood flooring comes in many different colors, ranging from light to dark shades. This means you can easily find a color that matches your furniture and other items in the room. With hardwood, you have the freedom to choose the perfect shade that will create a harmonious look with the rest of your decor.
Enhancing Furniture: When you have hardwood flooring in your home, your furniture pieces will really stand out. The smooth surface of the floor makes a big contrast with the textures and patterns on carpets or rugs. This makes everything look really cool and interesting to look at.
Long-lasting Appeal: Hardwood flooring is a great choice for your home because it lasts a long time. Unlike carpets or vinyl flooring, hardwood floors don't wear out easily and can handle lots of people walking on them. They stay strong and keep looking nice for many years. This is good for your house because it adds value and makes it look good too.
Ease of Care: Hardwood floors are pretty easy to clean when compared to carpets or other types of flooring. You just need to sweep or vacuum them regularly and give them a little mopping every now and then. That's all it takes to keep them looking nice and fresh.
Easy Cleaning And Maintenance With Hardwood Flooring
Maintaining a clean and beautiful house does not have to be a time-consuming task. You can easily maintain your living area looking clean with hardwood floors. Here are some of the reasons why hardwood flooring is an ideal choice due to its ease of cleaning and maintenance:
1. Simple Sweeping: Switching to hardwood flooring for your home has many benefits. One of the advantages is that it's super easy to keep your hardwood floors clean and tidy. All you need is a broom or dust mop to quickly get rid of any dirt or debris that may collect during the day. A simple sweep will do the trick and make your floors look spick and span.
2. Effortless Vacuuming: If you want to clean your hardwood floors more effectively, try using a vacuum cleaner with a soft brush attachment that is specifically made for hardwood floors. This will help you get rid of even the smallest particles without causing any damage.
3. Occasional Mopping: When it's time to give your floors a good cleaning, take a damp mop and gently go over the surface. Remember to avoid using too much water as it could harm the wood. So, make sure to squeeze out the mop well before using it.
4. Stain Resistance: If something spills on hardwood flooring, you can easily clean it up without leaving any marks. Unlike other types of flooring, spills won't seep in and create tough stains.
5. Cost-effective Maintenance: Hardwood floors are different from carpets or certain types of tile because they don't need professional cleaning services regularly. You can save money on expensive cleaning treatments by following simple care instructions like using the right cleaning products and avoiding rough materials such as sandpaper.
Maintaining the beauty of your hardwood floors is a piece of cake with simple cleaning methods. You won't have to worry about tough stains or hiring professionals to clean them. Embrace the simplicity and elegance that hardwood flooring adds to your home. So why wait any longer? Switch to hardwood flooring today and see for yourself how easy it is to clean and maintain.
Factors To Consider When Switching To Hardwood Floors
Before making a selection, compare the durability and lifetime of several wood types. Some wood species are more durable and long-lasting than others, so it's critical to pick properly. Consider the following options:
Oak: Known for its strength and durability.
Maple: Offers a smooth and elegant look.
Cherry: Provides a rich, warm tone.
Consider considerations like cost, installation time, and available warranties. Because installing hardwood flooring is an investment, it is essential to consider the following factors:
Cost: Compare prices from different suppliers or contractors.
Installation: Determine if you'll hire professionals or tackle the project yourself.
Warranties: Check if there are any warranties available for the flooring materials or installation.
Consider the effect of humidity levels on hardwood floors and select appropriate alternatives. Because wood is vulnerable to moisture, it's critical to choose flooring based on your region's climate:
Engineered hardwood: Resistant to moisture fluctuations.
Solid hardwood with proper sealant: Can withstand moderate humidity levels.
Finally, consider allergies while installing hardwood flooring in your house. Hardwood flooring, as opposed to carpets, which trap dust mites and other allergies, create a cleaner environment:
Reduced allergens: Hardwood floors minimize allergen accumulation.
Easy cleaning: Sweeping or mopping helps remove dust particles effectively.
Consider these concerns when switching to hardwood flooring for your home: durability and longevity of wood species, pricing and installation details, humidity influence, and decreased allergies.
Understanding The Impact Of Water Damage On Your Floors
It is critical to protect your hardwood floors from water damage if you want to keep its beauty and lifespan. Consider the following crucial points:
Water damage can be a big problem for hardwood floors. It can make them bend or get stained. To protect your investment, you should take steps to prevent water damage.
Certain parts of your house, like the kitchen and bathroom, can get wet easily. It's important to pay attention to these areas and do what you can to avoid any damage from water.
If there are any spills or leaks, it's important to act fast. Don't waste time and clean up any spills right away. Fix any leaks as soon as possible to prevent any lasting damage to your flooring.
Make sure to check your floors often for any signs of water damage. Keep an eye out for any changes in color, as well as any warping or bulging. These could be signs of bigger problems that need to be addressed.
To keep your hardwood floors in good shape, it's important to take preventive steps. Instead of waiting for water spills or leaks to happen, be proactive. You can also think about using rugs or mats in areas that are more likely to have accidents. These handy accessories can soak up any extra moisture and keep your hardwood floors safe.
To keep your hardwood flooring looking great and lasting a long time, it's important to understand how water damage can affect it. By being careful and taking steps to protect your floors, you can make sure they stay strong and beautiful for many years.
Our Take On Making The Switch To Hardwood Flooring
If you're thinking about getting hardwood floors for your home, we hope this blog post has given you some helpful information. We talked about different signs that show your current flooring is worn out or damaged, and we also mentioned how important it is to have floors that look good and are easy to clean. Hardwood floors are not only beautiful, but they're also strong and don't require much maintenance. They can really change the way your home looks and make it more durable against everyday use.
So why wait any longer? If you've noticed your floors looking worn out, if you're tired of always having to clean them, or if you just want to give your home a fresh new look, it's time to think about switching to hardwood flooring. Hardwood floors add a touch of elegance and warmth to any room. Don't wait any longer, take action now and transform your home with beautiful hardwood floors that will impress both you and your guests.
---
Unlock The Perfect Floor With K Floors – Your Trusted Flooring Contractor!
Dive into a world where your dream floor becomes a reality. Nestled in the heart of Concord, California, K Floors isn't just a flooring business – it's a promise of quality, trust, and variety. Whether you're envisioning classic hardwood, soft carpets that whisper luxury, or the green touch of bamboo, our palette is as varied as your imagination.
Why choose K Floors?
Comprehensive Expertise: From intricate baseboard installations to floor refinishing and wood staining, our mastery speaks volumes.
Free In-Home Consultations: No more guessing games! Our mobile service team brings expertise right to your doorstep. We measure, suggest, and make it all feel like a breeze.
Diverse Offerings: We're not just about selling; we specialize. Dive into our vast selection of Hardwood, LVP, Laminate, Carpet, Tile, and more. Your dream floor is just one choice away!
Premium Partnerships: With alliances with top-tier vendors, quality isn't just an assurance; it's our signature.
Discover the K Floors Experience
Our showroom is a reflection of our passion. Lose yourself amidst Hardwood, Carpet, Tile, Vinyl Plank, and an array of other choices. Each piece tells a story, and we want you to be a part of it. Come in, feel the textures, and relish the K Floors difference.
K Floors – More Than Just Floors
Serving the expansive Concord, CA, K Floors embodies the perfect blend of tradition and modernity. We're a family, and our values reflect in every piece we offer. With an arsenal of products and a dedication to both residential and commercial clients, we've redefined the flooring experience. Our commitment? Quality, authenticity, and a touch of home in every floor.
Visit us. Let's embark on a journey to craft your dream floor together!
---
Disclaimer
The materials available on this website are for informational and entertainment purposes only and not to provide legal advice. You should contact your attorney to obtain advice concerning any particular issue or problem. You should not act or refrain from acting based on any content included in this site without seeking legal or other professional advice. The information presented on this website may not reflect the most current flooring developments. No action should be taken in reliance on the information contained on this website and we disclaim all liability concerning actions taken or not taken based on any or all of the contents of this site to the fullest extent permitted by law.